Nogmaals, Bastiaan wordt vervoerd naar de wereld van Fantasia die hij onlangs heeft weten te redden van de ondergang. Het land wordt nu echter verwoest door een kwaadaardige tovenares, Xayide, dus hij moet zich aansluiten bij Atreyu en opnieuw de leegte aanschouwen.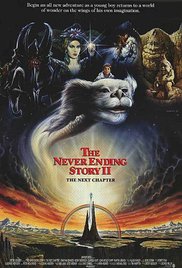 Genre Adventure, Drama, Family
Duur film 90 min
Budget voor deze film $36,000,000
Datum van publicatie 25 October 1990 (Germany)
Awards
Acteurs
Jonathan Brandis , Kenny Morrison , Clarissa Burt
Schrijvers
Karin Howard , Michael Ende
Regisseurs
George Miller
Score
Van de 19,237 stemmen op IMDb heeft The Neverending Story II: The Next Chapter een score van 5.0 van de 10.