Drie filmstudenten reizen naar Maryland om een studentenfilm te maken over een lokale stadslegende ... The Blair Witch. De drie gingen het bos in tijdens een tweedaagse wandeling om de Blair Witch te vinden en kwamen nooit meer terug. Een jaar later werden de studenten film en video gevonden in het bos. Het beeldmateriaal is gecompileerd en tot een film gemaakt. The Blair Witch Project.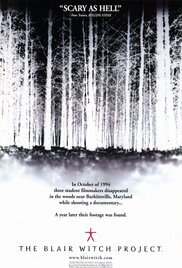 Genre Horror, Mystery
Duur film 81 min
Budget voor deze film $60,000
Datum van publicatie 28 October 1999 (Singapore)
Awards 17 wins & 21 nominations.
Acteurs
Heather Donahue , Michael C. Williams , Joshua Leonard
Schrijvers
Daniel Myrick , Eduardo Sánchez
Regisseurs
Daniel Myrick ,
Score
Van de 199,892 stemmen op IMDb heeft The Blair Witch Project een score van 6.4 van de 10.