"Wees geen bedreiging voor South Central terwijl je je sap in de hood drinkt" is een parodie op verschillende Amerikaanse films over het zich in de 'Hood' bevinden, bijvoorbeeld 'Boyz n the Hood', 'South Central', 'Menace II Samenleving "," Hoger leren "en" Sap ". We volgen Ashtray als hij terugkeert naar de plek waar hij is opgegroeid en zijn vader en zijn vrienden met mandjesvrienden ontmoet. Er gebeuren gekke dingen. Ashtray is bijvoorbeeld ouder dan zijn vader en de grootmoeder van zijn beste vriend Loc Dog is een opgewonden oude dame die haar excentriek uitziende kind de schuld geeft van het niet sterk genoeg zijn.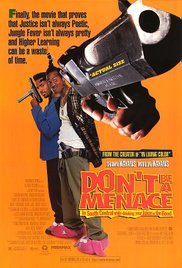 Genre Comedy, Crime
Duur film 89 min
Budget voor deze film $3,800,000
Datum van publicatie 12 January 1996 (USA)
Awards
Acteurs
Shawn Wayans , Marlon Wayans , Keenen Ivory Wayans
Schrijvers
Shawn Wayans , Marlon Wayans
Regisseurs
Paris Barclay
Score
Van de 40,083 stemmen op IMDb heeft Don't Be a Menace to South Central While Drinking Your Juice in the Hood een score van 6.6 van de 10.