Drie verdraaide verhalen uit de zelfkant van Schotland en de geest van Irvine Welsh. The Granton Star Cause: op dezelfde dag wordt een jonge Leith-jongen gedumpt door zijn voetbalteam, zijn vriendin en zijn ouders, gearresteerd en in elkaar geslagen door de politie en veranderd in een vlieg van God, die hij in een kroeg ontmoet. The Soft Touch: een man is te zacht om iets te doen als zijn vrouw met de schurk naar boven komt. The Acid House: tijdens het trippen op zuur, wordt Coco Bryce getroffen door bliksem, waardoor hij met een pasgeboren baby van lichaam wisselt.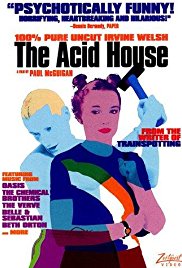 Genre Comedy, Drama
Duur film 111 min
Budget voor deze film
Datum van publicatie 1 January 1999 (UK)
Awards
Acteurs
Stephen McCole , Maurice Roëves , Garry Sweeney
Schrijvers
Irvine Welsh , Irvine Welsh
Regisseurs
Paul McGuigan
Score
Van de 6,181 stemmen op IMDb heeft The Acid House een score van 6.3 van de 10.